By Freddie Brown, Sports Contributor for The Progressive Column
The Spanish Flu and Covid-19. What we've learned since the 1919 Stanley Cup series about continuing to play sports amid a pandemic.
I am a writer. But, I have coached basketball at the youth level for 30 years. I have mixed feelings about sports and it's importance during a pandemic.
Before I share my conflicting thoughts, please indulge me with a quick anecdote;
A professional hockey championship series looks like it will go the distance, even in the middle of a pandemic. At the end of game five, players from both teams are sprawled around the ice having collapsed from exhaustion. It's a surreal sight.  Still, game six is scheduled for two days later.
One day before game six, both teams are still battling the virus. One team has only three healthy players left and wants to forfeit. The league rejects the idea and the team is encouraged to find players from another team. The healthier team has a slight edge. Behind the scenes both teams are working on a contingency plan in case players are still sidelined.
With just five hours to go before the puck was to be dropped to start game 6, and both teams out of solutions on how to field healthy teams, the league cancelled the series.  To the public this seemed unimaginable, but it seemed.
Players from both teams recuperate in the hospital. Four days after the cancellation of the series the veteran star dies from the virus.  A General Manager also dies a few years later. never having recovered from complications.
That is not fiction. As incredible as this story sounds, it actually happened.
It's well chronicled in Toronto author Steve Chappelle's book, No Decision: The 1919 Stanley Cup Final. That's the year the National Hockey League (NHL) Champion Montreal Canadiens and the Pacific Coast Hockey Association (PCHA) Champion Seattle Metropolitans played for Lord Stanley's Cup.
In the 125-year history of the Stanley Cup Finals only twice has it not been awarded – the 2005 NHL lockout and the 1919 decision made on April 1 -of all days- to not complete the series.
At the time of that story, the world was gripped by the Spanish Flu that infected an estimated 500 million people and caused 50 million deaths.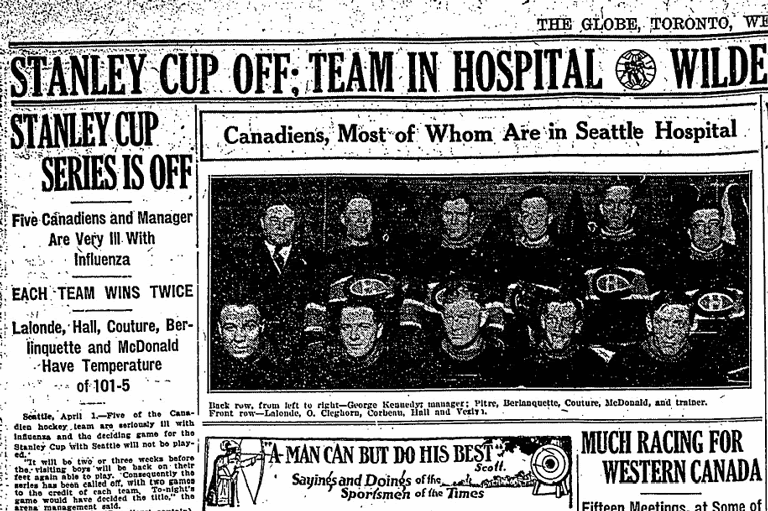 Montreal's Joe Hall was one of the many players diagnosed with the Spanish Flu who collapsed on the ice in game five. He never recovered and died four days after the series was cancelled. He was not the only one to die.
That story informs my conflicting views around sporting bodies who have decided to continue to play during COVID-19.
Clearly, the world is vastly different from 1919. Modern medicine, technology, and the lessons learned from previous pandemics makes it unlikely that COVID-19 will match the Spanish Flu in terms of devastation. (As of this writing there are a reported over 87 million COVID-19 cases and 1.88 million deaths around the world.) But a lot of the same protocols used to manage COVID-19 were used during the Spanish Flu.
Borders were closed, cities were locked down, schools were closed, businesses were shuttered and, according to an article in the Guardian Newspaper, you could be fined between $5 to $100 dollars and possibly be jailed for not wearing a "gauze face covering".
None of those measures prevented sporting events from taking place though. During the Spanish Flu pandemic, professional and college sports carried on despite the knowledge that crowded events were super spreaders for the virus.
During World War I (1914-1918) hundreds of professional and college athletes in North America voluntarily enlisted to fight. And for those who didn't want to volunteer, in 1917, Canada and the United States enacted conscription to bolster their armed forces. The combination of men voluntarily enlisting, and conscription reduced the number of men available to play professional and collegiate sports. This impacted the quality of the product being offered, which hurt the gate. The 1918 Spanish Flu arrived and further hurt attendance. People avoided crowds in an effort to minimize the risk of catching the virus.
"Athletics provides a connection. They belong to something that keeps them on the right path.

 

Taking it away is a cruel twist of fate."
It's obvious why people connected to sports wanted to see games continue. With dwindling talent pools and fan bases, there was a real fear that if those sports disappeared during the 1918 pandemic, they may not be able to recover. Money talks.
But there were other reasons for continuing competition during a pandemic. Like today, as we try to navigate COVID-19, the world was looking for a distraction from the Spanish Flu. And no one understood that better than President Woodrow Wilson who on May 21, 1917, a year before that pandemic, addressed the value of athletics in a letter to the New York Evening Post.
"I would be sincerely sorry to see the men and boys in our colleges and schools give up their athletic sports and I hope most sincerely that the normal courses of college sports will be continued so far as possible, not only to afford a diversion to the American people in the days to come when we shall no doubt have our share of mental depression…"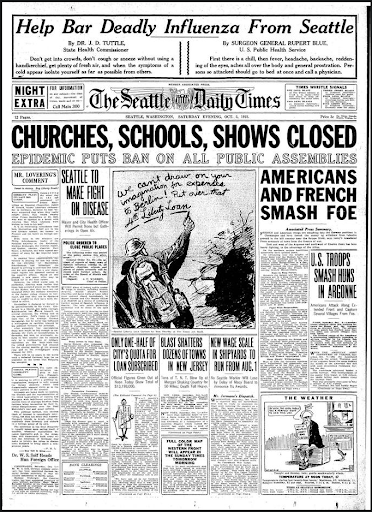 I understand the therapeutic nature of sports that Wilson was getting at. For me, watching sports has always been an oasis away from reality. I have heard the same sentiments from some of the "keep sports alive" crowd.  We hear people supporting the playing of organized sports- especially professional and college- to keep the economy going and offer distraction from the world we live in. I understand the debate, but there is another consideration.
The mental health of our young athletes is at risk as they are denied the opportunity to compete. It's a real threat.
When our basketball staff and organizations made the decision to shut down our programs before governing bodies did, the only concern was the physical health of the players and their families. The story of the 1919 Stanley Cup Series is frightening. I personalized it. What if I continued to hold practices and players got sick and someone died? Or, what if they got their parents or grandparents sick and one of them passed away? I could not have forgiven myself if that had happened.
"What if I continued to hold practices and players got sick and someone died? Or, what if they got their parents or grandparents sick and one of them passed away? I could not have forgiven myself if that had happened."
Since the shutdown, we have had to motivate our players to do their schoolwork and stay in shape. This is not ideal on a Zoom call. But if the call goes longer than the prescribed two hours, no one seems to mind. They want to continue to chat with each other about non-basketball stuff. There is always a sad refrain, "When will we play again?" Their mental and physical health is threatened.
I don't have an answer. No-one does.
Athletics provides a connection. They belong to something that keeps them on the right path.  Taking it away is a cruel twist of fate.
I want to keep my players safe, both physically and mentally. But until I get skilled enough to keep my players mentally well with the absence of basketball, I feel like COVID-19 is forcing me to choose one over the other. Allow them to play to feel mentally connected? At what cost?
There is no easy answer. It appears we'll just have to ride it out.
The opinions expressed in this article do not necessarily reflect the ownership or editorial board at TheProgressiveColumn.com